Gloabl Vinyl Flooring Market Trend
Gloabl Vinyl Flooring Market to surpass USD 61.24 billion by 2030 from USD 29.58 billion in 2020 at a CAGR of 7.55% in the coming years, i.e., 2021-30, according to our Gloabl Vinyl Flooring Market Report
What is Vinyl flooring?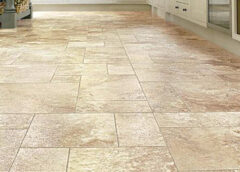 Vinyl flooring is a product composed of several layers of different materials sandwiched together to form a highly durable, practical and affordable floor covering. The two main types of vinyl flooring are Luxury Vinyl Tiles (LVT) and vinyl roll. Both LVT and vinyl roll are made from the same materials, however, they're constructed differently to produce different effects.
Vinyl Flooring Is Becoming Popular
Vinyl flooring is becoming a more and more popular choice among homeowners today. Aside from keeping consumers' budget intact, this can also make your floor look beautiful and stunning.
Why Vinyl Flooring is Popular?
Vinyl flooring is a flexible synthetic flooring material that's water and stain-resistant. Vinyl flooring is cost-effective and offers a variety of benefits such as durability, flexibility in handling, and design options, making it ideal for usage in hospitals, schools, businesses, and homes.
Furthermore, because vinyl flooring is easy to walk on and decreases impact noise, it is commonly used as a substitute for more high-maintenance flooring such as carpet. Advanced print and texture techniques are now available, allowing vinyl flooring to replicate the look of a range of flooring alternatives such as hardwood, marble, stone, and so on
Pricing – As mentioned earlier, vinyl flooring is priced fairly to accommodate even the tightest budgets. This way, you can allot your budget on other areas of your interior design.
Installation – Probably one of the biggest benefits of vinyl flooring is that this can be installed almost anywhere. Most of the time, you can even install it over your existing floor. It can then help you save money on hacking & demolition fees. This eliminates the need to repair your existing floor or tearing it out, which again translates to money savings.
Sturdiness – Vinyl flooring can perform exceptionally well even in kitchens where moisture is usually present. You can expect that this can last for a long time and remain sturdy after several years. Since vinyl is softer compared to wood or tiles, this is also perfect for families with young kids and pets.
Appearance – Vinyl flooring designs are getting nicer and more modern every year. You can now find one that looks like real stones or tiles, and some might even make it difficult even for the most observant eyes to identify if the floor is vinyl or not.
What is the Gloabl Vinyl Flooring Market size?
According to our recent research : Gloabl Vinyl Flooring Market Outlook 2030: Industry Insights & Opportunity Evaluation, 2019-2030, Gloabl Vinyl Flooring Market to surpass USD 61.24 billion by 2030 from USD 29.58 billion in 2020 at a CAGR of 7.55% in the coming years, i.e., 2021-30.
We beak down Gloabl Vinyl Flooring Market:
By Product Outlook (Vinyl Sheets, Vinyl Tiles, Luxury Vinyl Tiles);
By Application Outlook (Residential, Commercial) and,
By Region (North America, Latin America,Europe,Asia Pacific,Middle East and Africa)
Vinyl Flooring market is segmented by Application Outlook into Residential and commercial. Among these, the Commercial category had the highest revenue share in2019. Commercial construction segments like hotels and retail malls are projected to be the primary consumers of these tiles since they are both cost-effective and attractive.
The growing influence of designers and architects in the usage of vinyl flooring in commercial applications is projected to drive up demand for the product. These products' ease of cleaning and sterilization, as well as their attractive designs and slip and water resistance, are expected to drive their demand in commercial applications throughout the forecast period.
What is the leading regional vinyl flooring market?
In terms of both volume and revenue, Asia Pacific led the market in 2019, and this trend is expected to continue during the forecast period. Ceramic tiles have traditionally dominated the Asian flooring industry; however, changing consumer tastes that require product variety and improved designs are anticipated to have a beneficial influence on market growth. China is the region's largest construction market, as well as the largest vinyl flooring consumer. Changing building and construction trends in the region, which are leading to the development of modern architecture structures, are expected to boost the market growth.
Which country makes the most vinyl floor?
China is the most largest producer of vinyl flooring, and there are many enterprises engaged in vinyl flooring production.
More than 95% of the SPC and WPC are made in China.
More than 70% of LVT and LVP are made in China
More than 40% of Vinyl sheet is made in China.
China is also the largest construction market in Asia as well as the largest vinyl flooring consumer. Changing building and construction trends in the region, which are leading to the development of modern architecture structures, are expected to boost the market growth.
What is the North America vinyl flooring market outlook?
North America vinyl flooring market is currently being driven by several factors. The demand in the region is spurred by numerous advantages of vinyl flooring, such as easy installation and maintenance, cost-effectiveness, and moisture-resistance. Apart from this, rising technological advancements in the manufacturing process have also led to a growth in the vinyl flooring market in terms of the performance, installation and design. Additionally, due to the rising per capita incomes and standards of living, the demand for vinyl flooring products has increased in the region. Moreover, the rising renovation activities have induced growth in the vinyl flooring market.
What are major drivers for Gloabl Vinyl Flooring Market?
Increasing disposable income
Consumers' disposable earnings have risen in recent years, allowing them to upgrade their lifestyles and invest in lavish housing projects and other infrastructure improvements. Furthermore, customers believe that a well-decorated house is a mark of status, and as a result, they have begun to improve flooring solutions such as vinyl flooring in order to improve their social image.
Increasing infrastructure construction
With the global economy recovering and stabilizing, the construction sector in developing countries such as Asia, Africa, Eastern Europe, and Latin America is anticipated to rise steadily over the next five years. The current state of urban infrastructure in these areas is insufficient to meet the needs of the urban population. As a result, there is a need for urban regeneration in existing cities as well as the construction of new, inclusive smart cities, both of which will help the vinyl flooring market thrive in the near future.
Who are the leading players in Gloabl Vinyl Flooring Market?
Tarkett
Mohawk
Armstrong World Industries Inc.
Shaw Industries Inc.
Mannington Mills Inc.
Beaulieu International Group
Gerflor
Forbo
In the report: Gloabl Vinyl Flooring Market Outlook 2030: Industry Insights & Opportunity Evaluation, 2019-2030,  we anlyzed each company listed above with "Company Overview, Business Strategy, Key Product Offerings, Financial Performance, Key Performance Indicators, Risk Analysis, Recent Development, Regional Presence, SWOT Analysis".
Other Reports Related to Gloabl Vinyl Flooring Market
Related Report: Construction Chemicals Market : Segmented By Type (Concrete Admixture and Cement Grinding Aids, Surface Treatment, Repair and Rehabilitation, Protective Coatings, Industrial Flooring, Waterproofing, Adhesive and Sealants, and Grout and Anchor), By End-use (Residential, Industrial/Commercial, Infrastructure, And Repair Structures And Others), And Region 鈥?Global Analysis Of Market Size, Share & Trends For 2019鈥?020 And Forecasts To 2031
Related Report: Global Wood Plastic Composite (WPC) Floorings Market Analysis and Forecast 2031
Related Report: Global Flooring Market Analysis & Forecast 2017 To 2023
Related Report: Global Flooring Market Research Report – Forecast to 2023
Related Report: Vinyl Flooring Market: Global Analysis of Market Size, Share & Trends for 2019 – 2020 and Forecasts to 2030